Educational team
« The fundamental quality for the parent or the teacher is to know how to observe. » Maria Montessori
Cendrine Bathany
Founder & School Director
After getting her degree in young children's education, Cendrine worked for two years in the United States and obtained her Montessori diploma there. For six years, Cendrine progressed in various Montessori structures in France. In 2004, she decided to found the Secrets d'Enfance Monterssori School.
If there were only ten children at first, the school rapidly grew and since the recent opening of the elementary classes, the school now counts close to 100 pupils!
Annie
Montessori educator
In 1988, Annie discovered Maria Montessori's alternative pedagogy and start training to become a Montessori educator. She has been working for fifteen years as a Montessori school teacher in various schools.
In 2005, Annie joined Secrets d'Enfance's educational team. She works as a pair with Nuala, an english educator, with the Bear cubs class.
Nuala
Montessori educator
Nuala is from Cork, Ireland. She did her three to six year olds Montessori training at the IMA College in Dublin.  She worked for several years in both Ireland and in France in Montessori schools before stopping to be a stay at home mother for her three children.
She worked as an Administrator for an English school for several years and understand the difficulties in raising bilingual children here in France. Nuala began working at Secrets d'Enfance in September 2014 as the English Montessori teacher for two classes, and she is very happy to be working with children again.
Clémence
Montessori Educator
After getting her IMA degree from the Maria Montessori Superior Institute of Paris in 1998, and her BA in Italian Studies, Clémence decided to start her career as a Montessori educator, in Rome.
After several years of teaching in a prestigious Montessori school, she joined our team in 2005 and worked with the pre-school class along with Anaïs. Clémence also works with the Butterfly class (3 to 6 y/o).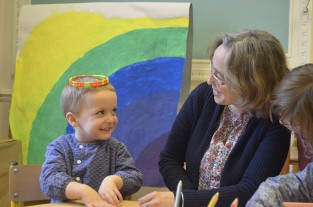 Anaïs
Montessori Educator
Raised in England, Anais did some of her studies in Paris and completed her Montessori training in London where she started working as a Montessori educator in a school in Clapham. When she moved to France, Anaïs worked for three years in a Billingual Montessori school before joining the Secrets d'Enfance's team in 2004.
Anaïs has been a passionate teacher for the 13 years she has been working with children from 2 to 6. Now she looks after the pre school with Clémence and also teach the Bear cubs ( class for 3 to 6 year olds) .
Nathalie
Montessori educator
After a ten years career in Marketing, It is with great strength and will that Nathalie attended internships and training programs to reconvert and became a Montessori educator.
Also trained at the Mental Gesture Theory of Antoine de la Garanderie, she joined the Secrets d'Enfance educational team in 2009, where she now pass on here passion for literature and tales to children from 3 to 6 years old.
Laurence
Montessori educator
Laurence graduated in Lyric Art, at the Russian Conservatory of Paris and discovered the Montessori pedagogy in 2008 when her daughter enters Secrets d'Enfance. Laurence worked for 5 years with the kindergarten children a the school, where she conducted arts, music and science worksops.
Laurence graduated in Lyric Art, at the Russian Conservatory of Paris and discovered the Montessori pedagogy in 2008 when her daughter enters Secrets d'Enfance. Laurence worked for 5 years with the kindergarten children a the school, where she conducted arts, music and science worksops.
Charlene
Montessori educator
I have always enjoyed working with children. As an history student, I work in parallel as a leisure center facilitator, in an association to help with homework and give private lessons. After my year at the IUFM and during the preparation of the school teacher competition, I worked as an AVS (School Life Assistant) in elementary schools. This is when I became interested in alternative pedagogies and discovered Montessori pedagogy. Graduated from AMI in 2001 (Institut Supérieur Maria Montessori in Paris), I worked in a Parisian Montessori school for 4 years before moving to Yvelines to educate my daughter at Secrets d'Enfance. In 2016, I joined the Secrets d'Enfance team as a Montessori educator for my greatest pleasure!
Susan
Educator for 2/3 years old children
I have a degree in Psychology and for three years I worked in National Education. Passionate about Montessori pedagogy, in 2017 I had the opportunity to work in a Montessori school, which allows me to see and confirm how beneficial this pedagogy is for children.
Following the departure of Laurence in 2017 (who followed her husband to the provinces), I joined the Secrets d'Enfance team to replace her in the early childhood garden with children aged 2/3. I look forward to participating in the development of your children!
Francine
I have been working at Secrets d'Enfance since 2006. I take care of the morning and evening daycare, as well as naps for 3/6 year olds. I have a CAP Petite Enfance since 2010. I also work with 2/3 year olds. I am always here to console your children!
A passionate, united team that is constantly attentive to the children and their parents.
Very creative, forward-thinking and always looking to improve over the years. The school calendar is punctuated by many and various events, it's quite a show really ! The end of the year shows are fab… It is a warm place, a school that breathes joy, good spirit, and professionalism. Its cultural diversity is a major asset for our children.
Both of my children grew up and thrived there and we will all keep an excellent memory of their time there. My son is now in 3rd grade and his scholarship is going very well.. who knew that to this day still, his eyes lit up every time we come in to get his little sister from the school. I guess it is true, only the children knows the secrets that lies in that school…
Don't shy away, contact us !
Question or interrogation? Contact us by email or give us a call, there will always be someone to answer.